Spacewalks/Bounce Houses

To book your reservations you can

book online

or call our office at

228-297-4807

, and we'll be happy to book it for you. Whenever you book online you will go through the same series of questions as you would on the phone. We actually go through the same software you do to book your reservations.

NO CREDIT CARD INFORMATION IS REQUIRED!! No deposit is required

. You can simply pay cash at the time of delivery. If you feel uncomfortable booking online please view our Privacy Policy, or call

228-297-4807

and we will be more than happy to book your reservations for you.

**We provide EVERYTHING. This includes extension cords, blowers etc. The only thing you need to provide is a power source within 100ft of the set up area.

If you are renting a unit or multiple units for a school, church, or similar organization we recommend you call our office to book your reservations, as we offer many discounts for these types of events.
Bounce House in Gulfport MS
Book the best bounce house in Gulfport MS from South MS Spacewalks and Waterslides today! We turn ordinary parties into extraordinary adventures! If you're looking to elevate your event to a whole new level of fun and excitement, you've come to the right place. With our amazing selection of bounce houses and spacewalk rentals, we guarantee hours of non-stop bouncing, laughter, and unforgettable memories in Gulfport, Mississippi .
We pride ourselves on being the go-to choice for all your bounce house in Gulfport MS rental needs. Our extensive range of options caters to all ages and party themes, from enchanting princess castles to thrilling superhero adventures. Watch as your little ones' faces light up with joy as they explore our inflatable wonderlands, where imagination knows no bounds. Safety is our top priority. All of our bounce houses and spacewalks are meticulously inspected and maintained to ensure they meet the highest safety standards. You can have peace of mind knowing that your little ones can bounce and play in a secure and protected environment, making us the most trusted bounce house in Gulfport MS.
What sets us apart is our commitment to providing not just rentals but unforgettable experiences. We want to deliver the best bounce house rental Gulfport or Biloxi MS has ever seen and understand that every event is unique and deserves a touch of magic. Our friendly and experienced staff will work closely with you to choose the perfect bounce house or spacewalk that suits your party's theme and venue. We'll guide you through the selection process, ensuring that you have the ideal inflatable attraction to create a truly memorable event.
Booking with us is a breeze. Our convenient online reservation system allows you to browse our inventory, check availability, and secure your rental with just a few clicks. Our professional team will handle the delivery, setup, and takedown, leaving you free to enjoy every moment of your event and effectively making us the bounce house rental Gulfport Mississippi can count on! Browse our inventory, find the best spacewalk for your upcoming event, and bounce your way into an exciting time today!
Bounce House Gulfport MS: Providing Fun Year-Round for Every Occasion
We have the bounce house Gulfport MS chooses to add wonder and whimsy to all events. Our incredible bounce houses are the life of the party, no matter what you're celebrating. From birthday celebrations to family reunions, and corporate picnics to school carnivals, our bounce houses add a delightful touch of excitement and entertainment. Kids and adults alike can bounce, slide, and giggle to their hearts' content with the bounce house Gulfport MS uses to create moments of pure joy and laughter. Our bounce houses are the perfect addition to community festivals, church events, and neighborhood block parties, where they become the center of attention and the highlight of the day.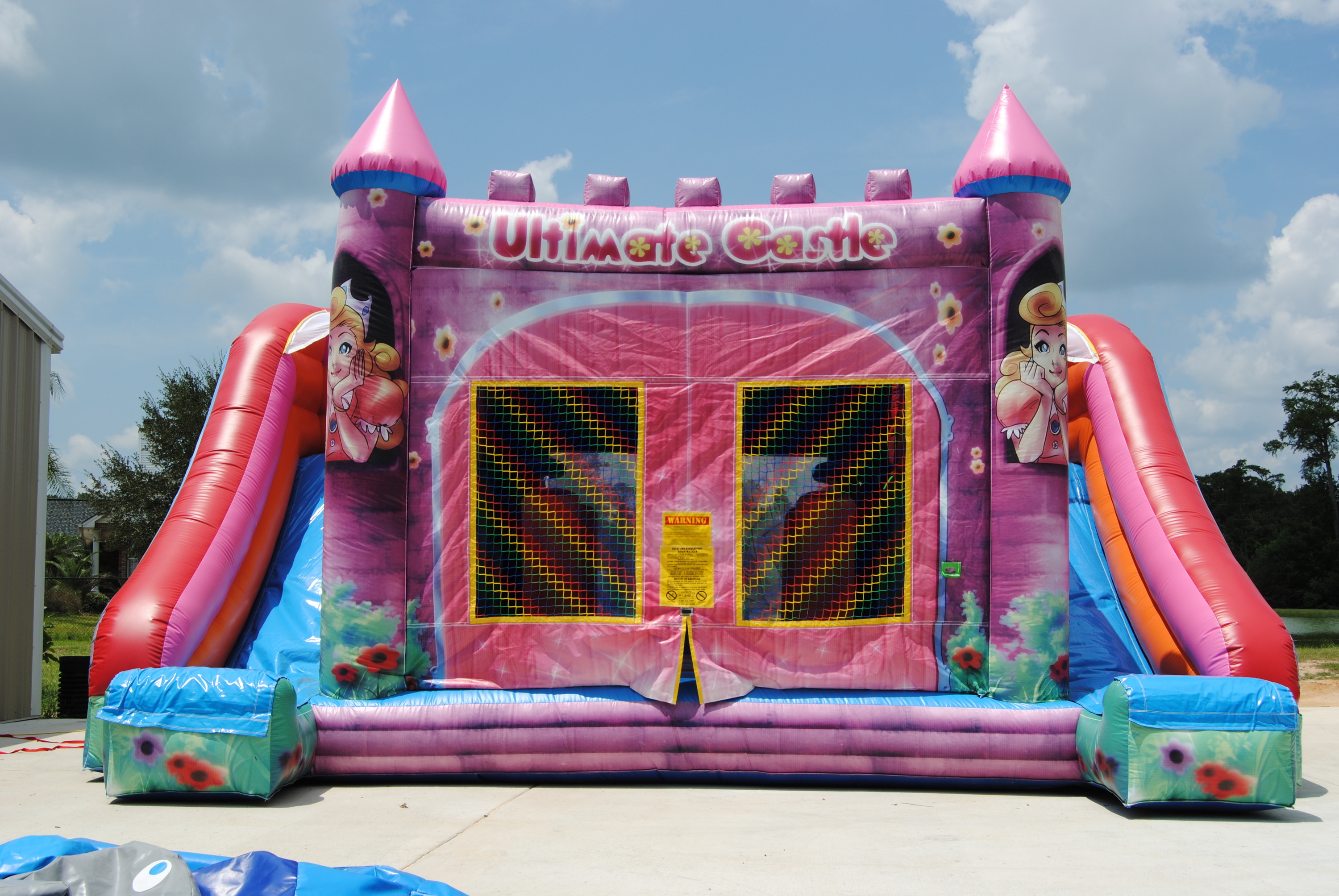 Whether it's a themed event, a summer bash, or a casual get-together, we've got the party bounce house Gulfport MS uses to add an extra element of fun and playfulness. With their vibrant colors, imaginative designs, and safe and durable construction, our bounce houses provide endless hours of bouncing bliss. From superheroes to princesses, from Disney to unicorns, we have a wide variety of bounce houses to match any party theme or style. Let your guests bounce, leap, and soar, and watch their faces light up with excitement.
The versatility of our bounce houses makes them suitable for both indoor and outdoor events, adapting to different spaces and settings. Whether it's a birthday bounce house rental Gulfport MS kids can't get enough of or a Fourth of July extravaganza, no matter the occasion, our bounce houses guarantee an unforgettable experience for everyone. So, get ready to bounce into action and turn your event into a bouncing extravaganza with South Mississippi Space Walks and Waterslides. Let the laughter soar and the fun bounce to new heights!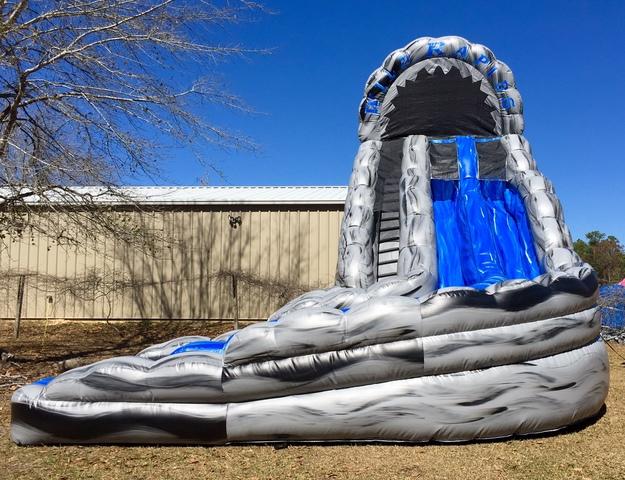 Selection Of Bounce House Rentals Gulfport MS Can't Get Enough Of
We take pride in providing the bounce house rentals Gulfport MS uses to add festive fun to every event. With a range of sizes, themes, and designs, our inflatable bounce house rental Gulfport MS caters to every imagination and party theme. From towering castles to exciting themed units, our bounce houses are sure to impress and create an unforgettable experience, making us the premier bounce house rental for adults Gulfport MS can rely on. Choose from our wide range of options and let the excitement soar to new heights!
Spider-Man Bounce House: Get ready to swing into action with our 14ft tall Spider-Man bounce house! Your little superheroes will be thrilled to bounce alongside their friendly neighborhood Spider-Man. With its towering height, vibrant colors, and exciting Spider-Man theme, this bounce house will create a web-slinging adventure that your kids will never forget. Starting at just $124.30, this bounce house can help save your party and your budget! Rent our Spider-Man bounce house and make your party the talk of the town!
Super Monster Truck: If you're searching for a bounce house rental near Gulfport MS that will provide ultimate excitement and entertainment, this is the unit for you! This incredible behemoth of a unit requires a setup area of 20' long by 20' wide by 23' high and is great for little kids up to teenagers!
Brave Knight: Blend the worlds of fantasy and whimsy with the Brave Knight bounce house! With a unique shape and towering castle inflatable, this exciting bouncer is great for Halloween parties, field days, community events, and more! If you're on the hunt for a high-quality and cheap bounce house rental Gulfport MS can depend on, look no further than our jaw-dropping selection.
How To Rent a Bounce House in Gulfport MS Online Today!
Those hoping to rent a bounce house in Gulfport MS can embark on an effortless journey to turn their event into an unforgettable celebration with South Mississippi Space Walks and Waterslides. Our online booking system makes it a breeze to secure the perfect attractions for your special occasion. Explore our vast selection of exciting entertainment options, from thrilling bounce houses to jaw-dropping water slides, and discover the elements that will elevate your event to new heights of fun and excitement.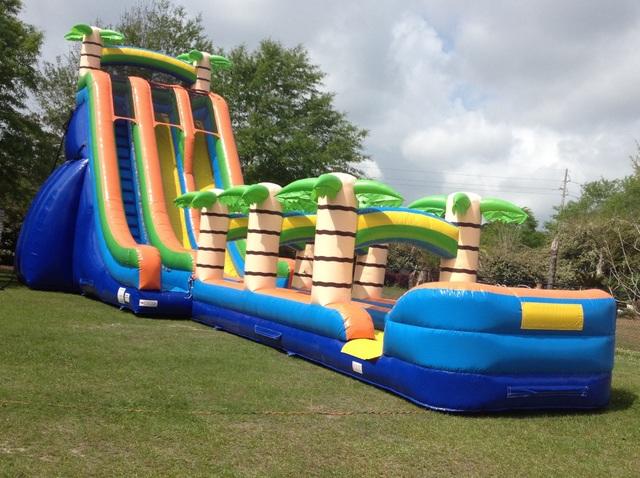 Step 1: Explore the Bounce House Wonderland

Get ready to be amazed as you step into our enchanting world of bounce houses. Our collection features an array of vibrant, colorful, and themed bounce houses that will leave kids and adults alike with smiles from ear to ear. From princess castles to exhilarating monster trucks, there's something to match every party theme.



Step 2: Find Your Perfect Spacewalk Bounce House

Browse through our extensive selection and find the spacewalk bounce house that suits your event's vibe. With various sizes and themes, you can customize your bounce house to match your party's unique style. Take your time to explore – there's no rush to decide.



Step 3: Check Availability

Once you've found the perfect bounce house for your event, check its availability on our user-friendly pop-up calendar. We recommend booking in advance to secure your preferred rental for the date and time of your event.



Step 4: Add to Cart

Click "Add to Cart" for your chosen bounce house. You can continue shopping or proceed to checkout. We believe in transparent pricing, so you'll always know the cost upfront for your specific area and items.



Step 5: Review and Customize

Before finalizing your reservation, review your order to ensure it includes any additional features or party extras you desire. Personalize your experience to make it truly unforgettable.



Step 6: Secure Your Reservation

Fill in your contact information and delivery address. Your information is safe and secure with us. We value your privacy and security.



Step 7: Payment Made Simple

Choose your preferred payment method and complete the transaction. Our online payment system is designed to make the process seamless and secure.



Step 8: Confirmation Awaits

With your reservation successfully placed, expect a confirmation email shortly with a digital copy of your receipt. This email will contain all the essential details you'll need for your event.



Step 9: Set Up and Enjoy

Sit back and relax – our team will handle the delivery and set-up when you rent a bounce house in Gulfport MS from our team. On the day of your event, all you have to do is prepare to bounce and have a blast!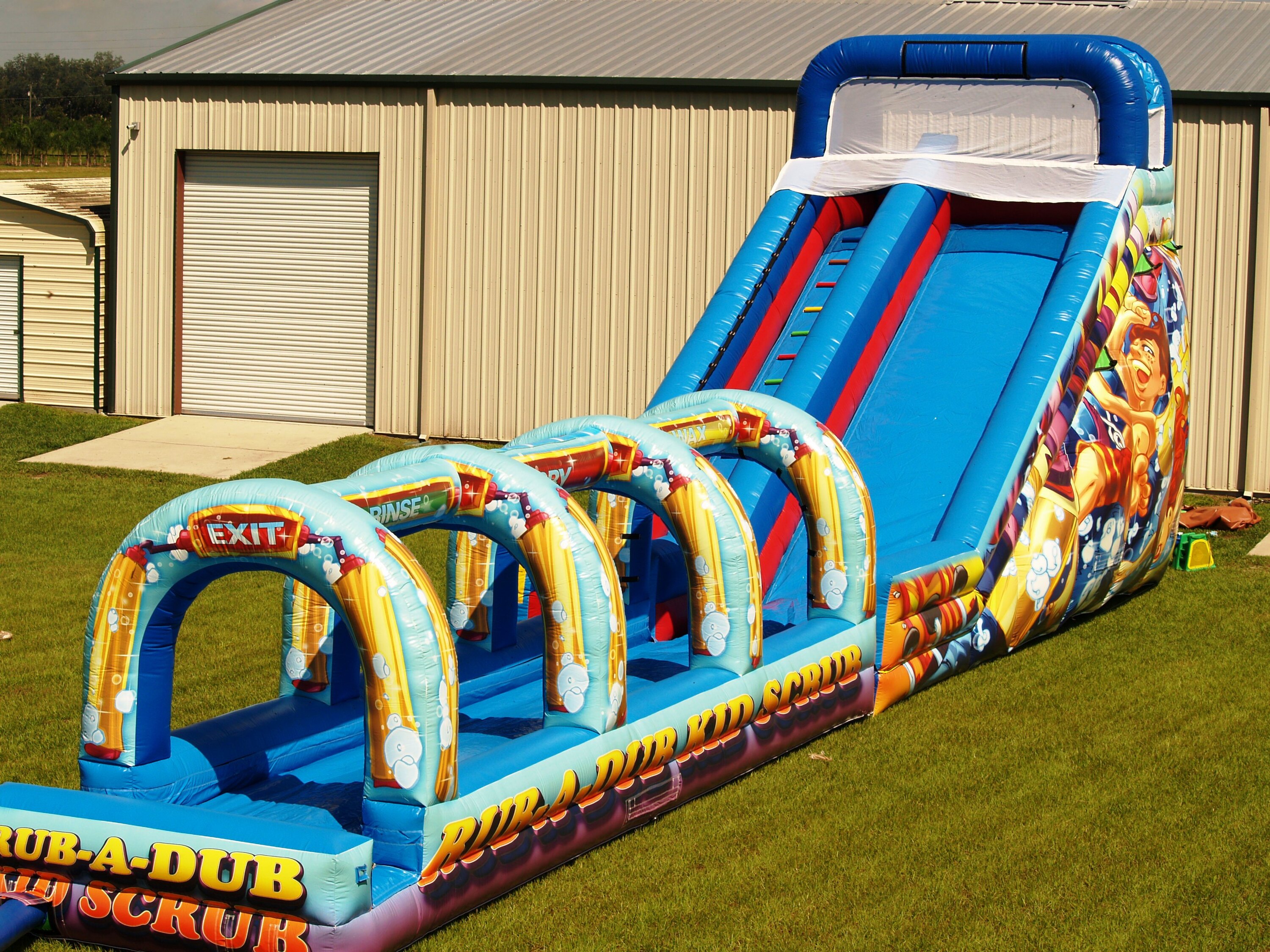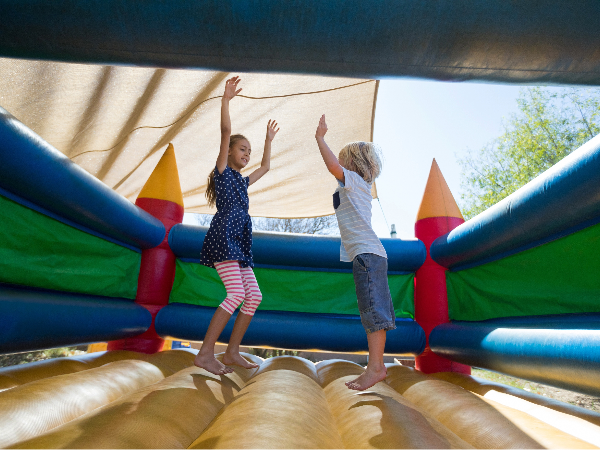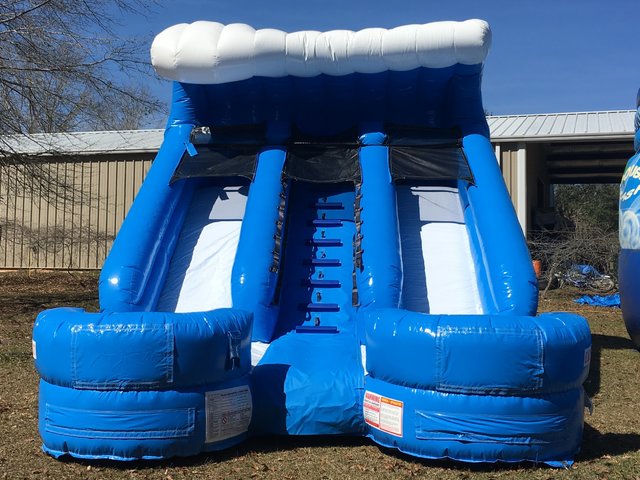 Renting a bounce house from South MS Spacewalks and Waterslides is your ticket to hosting an event that's full of laughter and boundless fun. Don't miss the chance to create lasting memories for your guests with a bounce house rental with slide Gulfport MS depends on!
Delivering the #1 Bounce House Rental in Gulfport MS
Get ready to elevate your party-planning experience with the best bounce house rental in Gulfport MS and Harrison County! As the go-to destination for bounce houses in Gulfport and the surrounding areas, including zip codes 39501, 39502, 39503, 39505, 39506, 39507, and 39532, we're dedicated to delivering unbeatable fun right to your doorstep. We're happy to deliver to the surrounding neighborhoods of Biloxi, Saucier, Long Beach, D'Iberville, and Diamondhead.
Our commitment to creating unforgettable moments extends to partnering with the Gulfport School District, where we bring the excitement of spacewalk bounce houses to school events, field days, awards ceremonies, and various celebrations. We're proud to help create an engaging atmosphere that fosters incredible memories with our bounce house rental in Gulfport MS.
Embracing our role as a valued community member, we deliver to popular parks like West Side Park, Jones Park, and James Hill Park. These scenic locations set the stage for outdoor gatherings that will be the talk of the town. With our bounce house rental in Gulfport MS, your family reunions, community festivals, and birthday parties will be transformed into unforgettable experiences that will be remembered for years to come.
You don't have to spend hours searching for the best "bounce house rental near me Gulfport MS!'' Our dedicated team is here to provide exceptional service to Gulfport and its neighboring areas. Our seamless delivery process ensures that the bounce house of your choice is conveniently set up at your preferred location. Our friendly team handles every detail, ensuring a stress-free experience for you and your guests.
If you're looking for the best bounce house fun in Gulfport, Biloxi, or the surrounding areas, look no further than South Mississippi Spacewalks and Waterslides. Our premium bounce houses will take your party to new heights of fun and laughter and will ensure that you and your guests will take home a lifetime's supply of happy memories. Also, don't forget to check out our water slide rentals Gulfport MS that kids love to play on at parties! We provide premium service with the bounce house rental costs Gulfport MS depends on, so book online today!
FAQs About Our Colorful Gulfport MS Bounce House Rental Selections
If you have questions about our Gulfport MS bounce house rental process, policies, or prices, take a look at our convenient frequently asked questions section below! We know that planning a party can be overwhelming, which is why our FAQs are here to provide you with the information you need in one place. Need more help or guidance? Give us a call at (228) 297-4807 to learn more.
Q.
How much is a bounce house rental in Gulfport MS?
A.
We're proud to offer the most cost-effective and budget-friendly Gulfport MS bounce house rental options! Depending on the size and style of the unit, the rental timeframe, and the delivery area, the prices vary. Setup and teardown are always included in the listed price. Be sure to add all of the items you'd like to your cart and navigate to the checkout page to view your customized grand total, including delivery and sales tax.
A.
Another name for a bounce house! Also called jumping castles, jumpers, bouncers, brinca brincas, moonwalks, moon bounces, and spacewalks, they all refer to the same fun-filled thing: bounce houses!
Q.
Are the inflatable spacewalks safe for all ages?
A.
Our commercial-grade spacewalks are designed with the whole family in mind. From toddlers to teenagers, the whole family can enjoy our Gulfport Mississippi bounce houses with peace of mind.
Q.
Can I book a bounce house in Gulfport over the phone?
A.
Yes! If you have more questions about the cost of bounce house rental Gulfport MS uses year-round, need to know more about our setup process, or would just prefer to speak directly with one of our friendly representatives, give us a call at (228) 297-4807, and we'll happily walk you through the process!
What Our Customers Have To Say About Our Gulfport MS Bounce House
Our Gulfport MS bounce house services have garnered rave reviews from our wonderful clients! Whether you're hosting a backyard birthday party for your little one or planning a county-wide fair for the holidays, we're confident our selections and service will take your event to the next level. Choose our experienced and friendly team for your spacewalk bounce house rental needs and join the long list of satisfied customers who have experienced the magic of South Mississippi Spacewalks and Waterslides! Take a look at our positive reviews below and schedule a Gulfport MS bounce house online today.
Background color: Color Theme 1
What Customers are Saying
"This company is the best!! Brandon Necaise went above and beyond to make our party the best ever! Will definitely call them again!"
- Janet L.
"They were really fantastic, whenever I had questions the staff was warm and friendly and didn't give me the cold shoulder."
- Bobby D.
" Highly recommend, these guys have a strong work ethic and were professional and timely."
- Piotr N.
Previous
Next